Stronchullin self-catering holiday cottages, Cowal, Argyll
Stronchullin self-catering holiday cottages have fabulous views of sea lochs and hills in a Highland landscape.  The Cowal Peninsula in Argyll on the West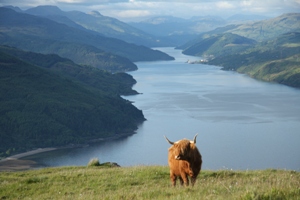 Coast of Scotland is one of the most scenic and unspoiled areas of Europe. It is very easy to get here, little more than an hours drive from Glasgow.  Dunoon is nearby providing every facility you could need while on holiday.
Idyllic surroundings
The cottages have direct access to many acres of forest, hill and beaches, ideal for walks and picnics. Stronchullin is within Argyll Forest Park and the Loch Lomond and Trossachs National Park . Holy Loch Marina and the famous Benmore Gardens are nearby.  Dunoon is a short drive, providing every facility you could want while on holiday.
A central location for exploring Argyll
Stronchullin Cottages are an ideal base from which to explore the whole of Argyll, with Oban in the far north less than two hours by car and the Island of Bute easily accessible from the ferry at Colintraive.  Inveraray, a fifty minute drive, is a great day out via one of the most scenic drives in Scotland along Loch Eck and the opportunity to visit several attractions at the tip of Loch Fyne.  To the east, Loch Lomond is less than an hour by car. 
Check availability and book
To enquire or book, your can check the availability calendars for the holiday cottages and contact us by email or phone and we will be happy to help.